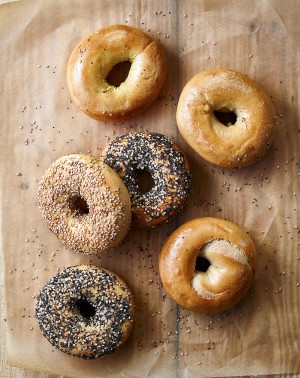 At Zingerman's Bakehouse. we bake every bagel as they made a long time ago—crispy on the outside, chewy on the inside, with big flavor, and a hole you can stick your finger through. Let us teach you to make a great bagel in your own home. You'll mix your dough from scratch, knead it by hand, shape it into rings, then boil and bake your bagels to get just the right texture. You'll choose your seeds too. We'll also show you traditional bialys, a crispy, chewy roll with a center of slow-roasted onions and poppy seeds. In our class, we'll snack on some different types of bagel along with fresh cream cheese from our neighbor Zingerman's Creamery. This class will give you a great go-to recipe. Who wouldn't be impressed waking up to freshly baked bagels? After all, better bagels could make for better weekends!

You'll leave BAKE! with our recipes, the knowledge to recreate them at home, two dozen bagels and/or bialys you made in class and great coupons.
What our guests have to say about this class:
I will now make bagels. Never thought it possible. — Chris A.
I love to learn new techniques—especially for things I might not make at home, such as bagels. — Mia B.
| Dates for the Class | Price | Class Status | Register |
| --- | --- | --- | --- |
| Sunday, November 17, 2019 - 8:00am - 12:00pm | $110.00 | Sold out | Add me to the waitlist |
| Sunday, January 5, 2020 - 8:00am - 12:00pm | $110.00 | 8 spots left | |