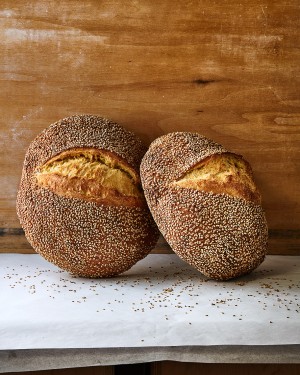 Did you know you can travel from Puglia to Genoa to Sicily without leaving Ann Arbor? In Mambo Italiano, we'll take you on a bread-baking tour across Italy and you'll return home with loads of Zingerman's Bakehouse breads—Paesano, Rustic Italian, Focaccia, and Sicilian Sesame Semolina—and the skills to make them any time you want to satisfy the craving for an Italian holiday. This hands-on class is a full 9-hour day of Italian bread baking from finding out what a poolish is to brushing olive oil on your focaccia dough with a nice Bakehouse lunch in between. You'll get plenty of hands-on practice at working with yeasted doughs, including kneading, shaping, and proofing too. While our loaves are rising we'll sneak into the Bakehouse to see bread baking done on a much larger scale.
Let's meet the Italian breads we'll make:
Paesano—This bread hails from Puglia, the heel of the boot of Italy. The name itself translates to "villager" or "countryman." It's a rustic peasant bread we make with nothing but organic wheat flour, water, sea salt, and yeast, along with an organic cornmeal-dusted crust.
Rustic Italian—This bread is delightfully uncomplicated, kind of dreamy really. It's a classic Italian white bread with a mild crumb and a thin crust. What makes ours better than the Italian bread commonly found in every store and bakery? We use nothing but organic wheat flour, water, sea salt, just a little yeast, but a lot of time.
Focaccia—A tender flatbread with garlic and olive oil in the dough topped with Parmigiano-Reggiano® cheese.
Sicilian Sesame Semolina—The entire loaf is rolled in unhulled sesame seeds before baking. The natural oil in all those seeds that cover the dough gets slowly roasted in the oven, contributing an intense flavor and aroma, not to mention a lovely little crunch. And that's just the crust! Inside there's a firm, rich, and almost cake-like crumb made with golden semolina flour yielding a beautiful yellow interior. The same flour is often used to make pasta.
You'll leave the BAKE! class with our recipes, the knowledge to recreate them at home, 2 loaves of Paesano, 2 loaves of Rustic Italian, 2 rounds of focaccia, 2 loaves of Sesame Semolina, a poolish to make more bread at home; not to mention a full tummy from a great Bakehouse lunch and bread sampling throughout the day. You'll also go home with some great coupons.
Head to the Bakehouse blog to read more about our Rustic Italian, Paesano, and Sicilian Sesame Semolina breads!
| Dates for the Class | Class Format | Price | Class Status | Register |
| --- | --- | --- | --- | --- |
| Saturday, October 28, 2023 - 8:00am - 5:00pm EDT | In-Person | $275.00 | Sold out | Add me to the waitlist |