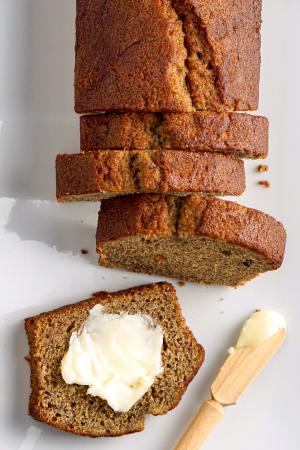 Kids Camp - Baking Basics
For kids ages 10-12
Drop off your kids for some hands-on learning and fun, then pick them up and enjoy tasting what they made. While we call this camp, Baking Basics, the baked goods they'll make and bring home are anything but basic. We know the valuable kitchen skills they'll learn here will come in handy for years to come and inspire a new generation of bakers. They'll learn foundational baking recipes like pate a choux, pie crust, and a straight dough yeasted bread. We'll also introduce them to grains and show them how they can mill flour at home!
This year a few of the recipes we'll be making are a savory hand pies, Michigan Wheat bread and then grilled cheese sandwiches, our banana bread with freshly milled grain and the whole banana, peel and all, cream puffs, whipped cream,  and chocolate sauce. If that isn't enough the kids will learn how to make a French baguette and a Cornish Pasty!
If your child has dietary restrictions we'll do our best to accommodate them. We are sometimes able to leave ingredients out but we are not able to make substitutions. We apologize for any inconvenience.
The kids will leave BAKE! camp with our recipes, the knowledge to recreate them at home, all the food they made in class, and great coupons.
NOTE: Sessions run Tuesday-Friday each week, EXCEPT for the week of July 17-20, which will run Monday-Thursday.
Dates for the Class
Class Format
Price
Class Status
Register

Tuesday, June 13, 2023 - 9:00am - 12:00pm EDT




Wednesday, June 14, 2023 - 9:00am - 12:00pm EDT




Thursday, June 15, 2023 - 9:00am - 12:00pm EDT




Friday, June 16, 2023 - 9:00am - 12:00pm EDT



In-Person

$325.00

Sold out

Add me to the waitlist

Tuesday, June 20, 2023 - 9:00am - 12:00pm EDT




Wednesday, June 21, 2023 - 9:00am - 12:00pm EDT




Thursday, June 22, 2023 - 9:00am - 12:00pm EDT




Friday, June 23, 2023 - 9:00am - 12:00pm EDT



In-Person

$325.00

Sold out

Add me to the waitlist

Tuesday, June 27, 2023 - 9:00am - 12:00pm EDT




Wednesday, June 28, 2023 - 9:00am - 12:00pm EDT




Thursday, June 29, 2023 - 9:00am - 12:00pm EDT




Friday, June 30, 2023 - 9:00am - 12:00pm EDT



In-Person

$325.00

Sold out

Add me to the waitlist

Tuesday, July 11, 2023 - 9:00am - 12:00pm EDT




Wednesday, July 12, 2023 - 9:00am - 12:00pm EDT




Thursday, July 13, 2023 - 9:00am - 12:00pm EDT




Friday, July 14, 2023 - 9:00am - 12:00pm EDT



In-Person

$325.00

Sold out

Add me to the waitlist

Monday, July 17, 2023 - 9:00am - 12:00pm EDT




Tuesday, July 18, 2023 - 9:00am - 12:00pm EDT




Wednesday, July 19, 2023 - 9:00am - 12:00pm EDT




Thursday, July 20, 2023 - 9:00am - 12:00pm EDT



In-Person

$325.00

Sold out

Add me to the waitlist

Tuesday, July 25, 2023 - 9:00am - 12:00pm EDT




Wednesday, July 26, 2023 - 9:00am - 12:00pm EDT




Thursday, July 27, 2023 - 9:00am - 12:00pm EDT




Friday, July 28, 2023 - 9:00am - 12:00pm EDT



In-Person

$325.00

Sold out

Add me to the waitlist

Tuesday, August 1, 2023 - 9:00am - 12:00pm EDT




Wednesday, August 2, 2023 - 9:00am - 12:00pm EDT




Thursday, August 3, 2023 - 9:00am - 12:00pm EDT




Friday, August 4, 2023 - 9:00am - 12:00pm EDT



In-Person

$325.00

Sold out

Add me to the waitlist

Tuesday, August 8, 2023 - 9:00am - 12:00pm EDT




Wednesday, August 9, 2023 - 9:00am - 12:00pm EDT




Thursday, August 10, 2023 - 9:00am - 12:00pm EDT




Friday, August 11, 2023 - 9:00am - 12:00pm EDT



In-Person

$325.00

Sold out

Add me to the waitlist

Tuesday, August 15, 2023 - 9:00am - 12:00pm EDT




Wednesday, August 16, 2023 - 9:00am - 12:00pm EDT




Thursday, August 17, 2023 - 9:00am - 12:00pm EDT




Friday, August 18, 2023 - 9:00am - 12:00pm EDT



In-Person

$325.00

Sold out

Add me to the waitlist

Tuesday, August 22, 2023 - 9:00am - 12:00pm EDT




Wednesday, August 23, 2023 - 9:00am - 12:00pm EDT




Thursday, August 24, 2023 - 9:00am - 12:00pm EDT




Friday, August 25, 2023 - 9:00am - 12:00pm EDT



In-Person

$325.00

Sold out

Add me to the waitlist