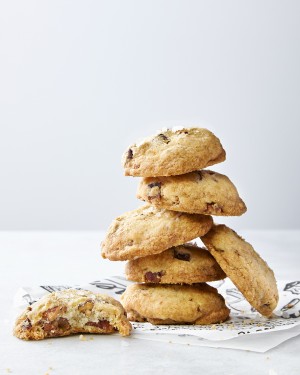 We'll be using the power of bacon to flavor three amazing baked goods, all in honor of Zingerman's annual Camp Bacon® and Zingerman's Guide to Better Bacon. Together we'll make Peppered Bacon  bread, perfect for toast or sandwiches. We'll also make rich Bacon Cheddar Scallion scones and sweet-and-salty Bacon Pecan Sandy cookies. Try and contain yourself!
You'll leave the BAKE! class with our recipes, the knowledge to recreate them at home, and all the tasty bacon baked goods you made in class. You'll also go home with some great coupons.
Additional Products
My Weigh Kitchen Scale
A scale is the perfect way to take the guesswork out of your measuring, but not all scales are created equal. The My Weigh KD-8000 is one of our favorites, and it's the same version of the scale our instructors use during BAKE! Classes. We like it because it weighs accurately down to 1 gram/0.05 oz, which means even small measurements will be precise. It also has a Baker's Math function that lets you calculate percentages of other ingredients in a recipe based on the total weight of your flour—a great way to figure out your dough's hydration, or to scale a recipe up or down!
The scale is battery-powered (but comes with an AC adapter if you'd rather have it plugged in) and has a weight capacity of up to 8000 grams/17.62 lb. It features a backlit LCD readout with a protective cover, and a removable platform for easy cleaning. The price includes ground shipping.
| Dates for the Class | Class Format | Price | Class Status | Register |
| --- | --- | --- | --- | --- |
| Sunday, November 13, 2022 - 8:00am - 12:00pm EST | In-Person | $135.00 | 10 spots left | |