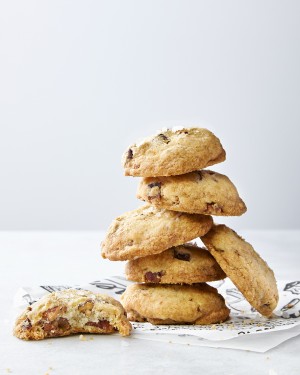 This class is being offered virtually. 
We'll be using the power of bacon to flavor three amazing baked goods, all in honor of Zingerman's annual Camp Bacon® and Zingerman's Guide to Better Bacon. Together, we'll make rich Bacon Cheddar scones and sweet-and-salty Bacon Pecan Sandy cookies. Then, we'll take you to hog heaven with a demonstration of our Potato Bacon strudel*. Try and contain yourself.
You'll leave the BAKE! class with our recipes, the knowledge to recreate them at home, and all the tasty bacon baked goods you made in class. 
* Please note, you can watch the Potato Bacon strudel portion of this class as a demo OR you can make it along with us; you'll just need a large work surface (30"x70") and a linen cloth you don't mind getting flour on. 
Additional Products
My Weigh Kitchen Scale
A scale is the perfect way to take the guesswork out of your measuring, but not all scales are created equal. The My Weigh KD-8000 is one of our favorites, and it's the same version of the scale our instructors use during BAKE! Classes. We like it because it weighs accurately down to 1 gram/0.05 oz, which means even small measurements will be precise. It also has a Baker's Math function that lets you calculate percentages of other ingredients in a recipe based on the total weight of your flour—a great way to figure out your dough's hydration, or to scale a recipe up or down!
The scale is battery-powered (but comes with an AC adapter if you'd rather have it plugged in) and has a weight capacity of up to 8000 grams/17.62 lb. It features a backlit LCD readout with a protective cover, and a removable platform for easy cleaning. The price includes ground shipping.
| Dates for the Class | Class Format | Price | Class Status | Register |
| --- | --- | --- | --- | --- |