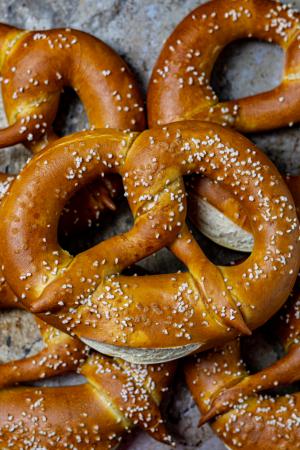 Learn the secrets to traditional Bavarian (German-style) soft pretzels made with lard and dipped in lye. We will teach you how to form the crossed pretzel shape and tell you the story of why a monk decided to have this food be "in prayer." You'll also shape the soft pretzel stick, or baguette, we make at the Bakehouse. These simple but tasty rolls are sure to become a family favorite. We'll also answer the "burning" question, "Are these dipped in the same lye used to make soap?"
You'll leave the BAKE! class with our recipe, the knowledge to recreate it at home, all the soft pretzels you made in class, and some great coupons.
This class was formerly known as "Bavarian Baguettes: a.k.a. German Pretzels"
What our guests have to say about this class:
These classes are the ultimate experience! I have told so many people about it that I hope they don't take a spot before I get mine. I can't wait to make these at home! (I will not tell anyone how easy it is.) —Donna M.
I'm not afraid to try pretzels with lye now that I know the proper methods. —Dan S.
I loved the easy-going nature of the class environment and I learned a whole lot! I feel that this recipe isn't overwhelming and I'm excited to give it a shot at home! —Spencer W.
Additional Products
Barley Malt Syrup
Barley Malt Syrup is a mellow sweetener, a tasty food source for yeast, and an ingredient that we use in our virtual Soft Pretzel, Better Bagel, and German Bread classes at Bake. We will ship you 14 ounces, which is more than enough for all your baking needs. Shipping is included in the price. 
| Dates for the Class | Class Format | Price | Class Status | Register |
| --- | --- | --- | --- | --- |
| Wednesday, January 17, 2024 - 6:00pm - 9:00pm EST | In-Person | $110.00 | 10 spots left | |
| Thursday, January 18, 2024 - 1:30pm - 4:30pm EST | Virtual | $85.00 | 17 spots left | |
| Thursday, March 7, 2024 - 6:00pm - 9:00pm EST | In-Person | $110.00 | 12 spots left | |
| Wednesday, March 27, 2024 - 6:00pm - 9:00pm EDT | In-Person | $110.00 | 12 spots left | |
| Wednesday, April 17, 2024 - 1:00pm - 4:00pm EDT | In-Person | $110.00 | 12 spots left | |
| Sunday, May 5, 2024 - 2:00pm - 5:00pm EDT | In-Person | $110.00 | 12 spots left | |