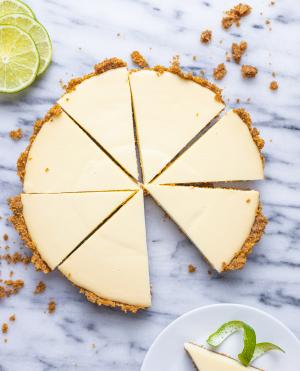 In this corner, we have Lemon Merenga Tart! Her sweet-tart, lemon curd filling is nestled into a crisp, pâte sucrée tart shell and topped with toasted meringue. She packs a fresh burst of lemon that's sure to get your taste buds dancing.
And in this corner, we have Key Lime Pie! Her sweet-tart, lime-laden creamy filling made with a bit of sour cream and Florida Key Lime juice is tucked in a buttery graham cracker crust. Get ready for a sassy slice of sweet and tart that will make summer days even sunnier.
Which fresh-squeezed, sweet-tart dessert will win the smackdown?! Only you can decide in this hands-on class—you'll make them both and choose the ultimate citrus champion for yourself.
You'll leave the BAKE! class with our recipes, the knowledge to recreate them at home, and the pie and tart you made in class.
In-person: We'll end class with a tasting and you'll go home with some great coupons.
| Dates for the Class | Class Format | Price | Class Status | Register |
| --- | --- | --- | --- | --- |
| Friday, January 12, 2024 - 1:00pm - 5:00pm EST | In-Person | $135.00 | 3 spots left | |
| Sunday, February 25, 2024 - 1:30pm - 5:30pm EST | In-Person | $135.00 | 3 spots left | |
| Wednesday, March 13, 2024 - 5:30pm - 9:30pm EDT | In-Person | $135.00 | 12 spots left | |
| Sunday, March 17, 2024 - 1:30pm - 5:30pm EDT | Virtual | $85.00 | 16 spots left | |
| Saturday, April 27, 2024 - 1:30pm - 5:30pm EDT | In-Person | $135.00 | 8 spots left | |
| Saturday, May 18, 2024 - 1:30pm - 5:30pm EDT | In-Person | $135.00 | 12 spots left | |
| Sunday, May 26, 2024 - 1:30pm - 5:30pm EDT | In-Person | $135.00 | 12 spots left | |