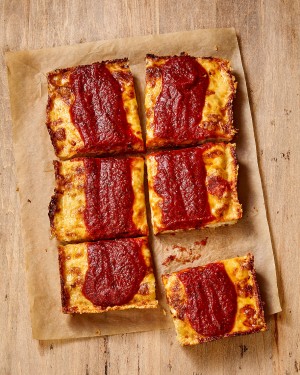 Experience three classics from Detroit institutions that have been around since the 1920s and 1940s. Together in this hands-on class, we'll make Detroit-Style Deep Dish Pizza, with caramelized cheese edges baked in a blue steel pan; Spiced Almond Cookies, in the traditional windmill shape; and a Long John Coffee Cake, with a butter, brown sugar, and walnut streusel. Get a little piece of history and a big bite of flavor, along with plenty of hands-on practice and tips for mastering these classic recipes. 

You'll leave the BAKE! class with our recipes, the knowledge to recreate them at home, and the pizza, cookies, and coffee cake you made in class.
In-person: We'll end class with a tasting of what we made and you'll go home with some great coupons.
What our guests have to say about this class:
This class helped me realize that baking isn't as intimidating as I had feared, and can be fun (and not just a chore). —Remy D.

These classes make home baking seem much more doable. —Margaret B.
I never wanted to make pizza at home but now I definitely will. —Arielle J.
Additional Products
Basic Pastry Baking Kit
Our Basic Pastry Kit is ideal for newer pastry bakers, and includes tools we typically use for baked goods like scones, cookies, and brownies. It comes packed with the following equipment: a bowl scraper, a bench knife, an oven thermometer, ten sheets of parchment paper, a small pastry brush, a small offset spatula, 1 oz portion scoop, and a french rolling pin. The price includes ground shipping. For more in-depth equipment descriptions please go to our FAQ page or send us an email at [email protected].
| Dates for the Class | Class Format | Price | Class Status | Register |
| --- | --- | --- | --- | --- |
| Thursday, January 4, 2024 - 5:30pm - 9:30pm EST | In-Person | $135.00 | Sold out | Add me to the waitlist |
| Friday, January 12, 2024 - 1:00pm - 5:00pm EST | In-Person | $135.00 | 8 spots left | |
| Wednesday, January 24, 2024 - 1:00pm - 5:00pm EST | In-Person | $135.00 | Sold out | Add me to the waitlist |
| Thursday, February 8, 2024 - 5:30pm - 9:30pm EST | In-Person | $135.00 | 10 spots left | |
| Sunday, February 18, 2024 - 1:30pm - 5:30pm EST | In-Person | $135.00 | Sold out | Add me to the waitlist |
| Thursday, February 29, 2024 - 5:30pm - 9:30pm EST | In-Person | $135.00 | 10 spots left | |
| Wednesday, March 20, 2024 - 1:00pm - 5:00pm EDT | In-Person | $135.00 | 11 spots left | |
| Wednesday, April 3, 2024 - 5:30pm - 9:30pm EDT | In-Person | $135.00 | 10 spots left | |
| Wednesday, April 17, 2024 - 5:30pm - 9:30pm EDT | In-Person | $135.00 | 12 spots left | |
| Sunday, April 28, 2024 - 1:30pm - 5:30pm EDT | In-Person | $135.00 | 8 spots left | |
| Sunday, May 19, 2024 - 1:30pm - 5:30pm EDT | In-Person | $135.00 | 8 spots left | |