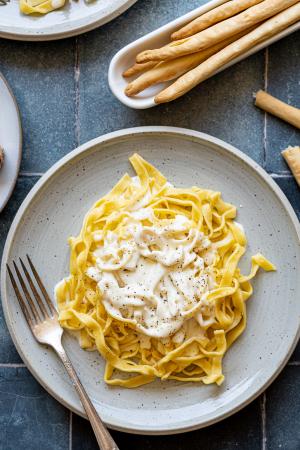 Who doesn't love pasta night?! In this hands-on class, you'll make egg fettuccine, along with a creamy, cheesy alfredo sauce, all from scratch. Then we'll bake grissini (crispy breadsticks) to go alongside it. Something sweet to round it out? We'll bake up some crispy chocolate biscotti to enjoy with your after-dinner coffee.

You'll leave the BAKE! class with our recipes, the knowledge to recreate them at home, and dinner for four!
In-Person: We'll end class with a tasting of what we made and you'll go home with some great coupons.
Virtual: To make the best pasta, having a hand-cranked pasta machine or the appropriate attachments for a stand mixer will be extremely helpful and highly recommended.
What our guests have to say about this class:
All the food is fabulous and the instructors were so helpful. — Nick P.
Can't wait to try everything I learned at home. —Heidi S.
Making homemade pasta was a lot easier than I ever imagined. —Tina W.
Additional Products
Basic Pastry Baking Kit
Our Basic Pastry Kit is ideal for newer pastry bakers, and includes tools we typically use for baked goods like scones, cookies, and brownies. It comes packed with the following equipment: a bowl scraper, a bench knife, an oven thermometer, ten sheets of parchment paper, a small pastry brush, a small offset spatula, 1 oz portion scoop, and a french rolling pin. The price includes ground shipping. For more in-depth equipment descriptions please go to our FAQ page or send us an email at [email protected].
| Dates for the Class | Class Format | Price | Class Status | Register |
| --- | --- | --- | --- | --- |
| Friday, July 7, 2023 - 12:00pm - 4:00pm EDT | Virtual | $85.00 | 19 spots left | |
| Wednesday, July 12, 2023 - 5:30pm - 9:30pm EDT | In-Person | $135.00 | 8 spots left | |
| Thursday, August 24, 2023 - 5:30pm - 9:30pm EDT | In-Person | $135.00 | 8 spots left | |