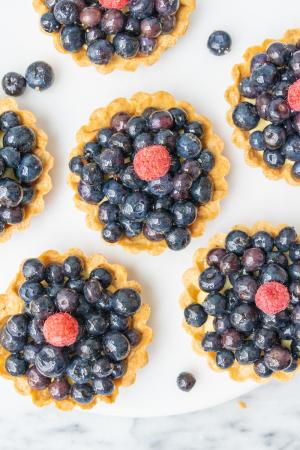 Join us to make a meal perfect for serving at your next summer picnic! First, we'll make a Roasted Vegetable Strudel, starting with the strudel dough followed by preparing and roasting a bounty of summer vegetables to fill the strudel with. For dessert, we'll make a  Blueberry Tart - a sweet and crisp pâte sucrée tart shell, luscious vanilla bean pastry cream, and a pile of fresh blueberries. Lastly, you'll learn the magic of hand stretching strudel dough and how we get all those flaky layers!
We'll also demonstrate our Bakehouse Wheat Berry Salad to sample with the strudel we made. 
You'll leave the BAKE! class with our recipes, the knowledge to recreate them at home, and dinner for four!
In-Person: We'll end class with a tasting of what we made and you'll go home with some great coupons.
What our guests have to say about this class:
It was a fun and friendly environment and the instructions were easy to understand. I think this has jumpstarted my desire to explore new recipes. —David J.
This is my favorite class I've taken—I see myself making all of these items over and over again. —Jeanne B.
| Dates for the Class | Class Format | Price | Class Status | Register |
| --- | --- | --- | --- | --- |
| Saturday, June 10, 2023 - 1:30pm - 5:30pm EDT | In-Person | $135.00 | Sold out | Add me to the waitlist |
| Friday, June 30, 2023 - 1:00pm - 5:00pm EDT | In-Person | $135.00 | Sold out | Add me to the waitlist |
| Sunday, August 20, 2023 - 1:30pm - 5:30pm EDT | In-Person | $135.00 | Sold out | Add me to the waitlist |