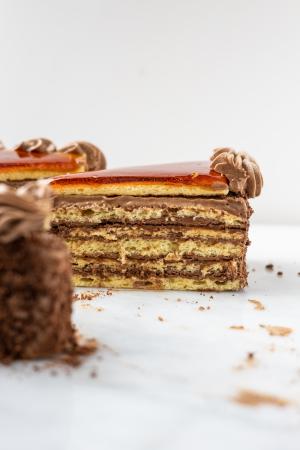 Join us for this hands-on class as we make Dobos (pronounced doh-bosh) the Zingerman's Bakehouse way. This traditional Hungarian coffeehouse torte was created in 1884 by well-known Hungarian chef and confectioner József C. Dobos (1847–1924), in Budapest, which, at the height of the Austro-Hungarian Empire, enjoyed a coffeehouse culture of delicious fancy tortes and great coffee. Our Dobos torta is five layers of light vanilla sponge cake filled and iced with dark chocolate espresso buttercream, the sides covered in chocolate brownie crumbs, and garnished on top with a layer of crisp rich caramel.
We'll teach you how to make the cake layers, buttercream, brownie crumbs, and caramel, and then how to assemble these into a truly delicious and decadent dessert. This beloved torte evokes the elegance of Budapest's by-gone coffeehouse culture and the pastry traditions of Hungary, a country touted as "the land of 10-million pastry lovers," by George Lange, the Hungarian-born American restaurateur, food and travel writer, critic and journalist. Taste one of Hungary's most famous tortas. 
Additional Products
My Weigh Kitchen Scale
A scale is the perfect way to take the guesswork out of your measuring, but not all scales are created equal. The My Weigh KD-8000 is one of our favorites, and it's the same version of the scale our instructors use during BAKE! Classes. We like it because it weighs accurately down to 1 gram/0.05 oz, which means even small measurements will be precise. It also has a Baker's Math function that lets you calculate percentages of other ingredients in a recipe based on the total weight of your flour—a great way to figure out your dough's hydration, or to scale a recipe up or down!
The scale is battery-powered (but comes with an AC adapter if you'd rather have it plugged in) and has a weight capacity of up to 8000 grams/17.62 lb. It features a backlit LCD readout with a protective cover, and a removable platform for easy cleaning. The price includes ground shipping.
| Dates for the Class | Class Format | Price | Class Status | Register |
| --- | --- | --- | --- | --- |
| Thursday, January 26, 2023 - 1:00pm - 5:00pm EST | In-Person | $135.00 | 9 spots left | |