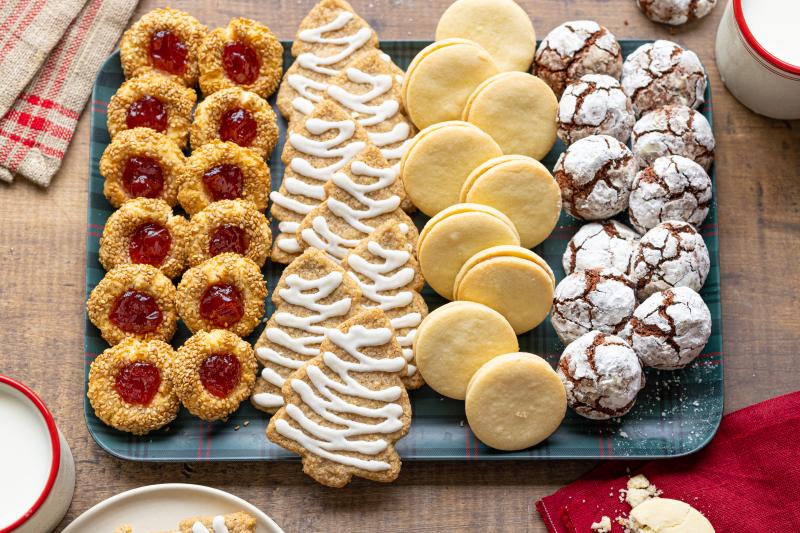 Our most popular class of the year! 
Join us to get into the holiday spirit and make four festive, fancy cookies, worthy of your family cookie plate. It is guaranteed fun and is known to inspire new family traditions!
This year's cookie lineup has a cookie for everybody. We always try to include nuts, fruit, chocolate, and spice; this year, we added freshly milled flours to the mix, too.
Alfajores
Petite, tender shortbread sandwich cookies. Often filled with dulce de leche, they're frequently thought of as a South American treat, but they likely originated in the Middle East and were made with dried fruit preserves and rolled in nuts. Our version reflects the South American tradition.  
Sesame Thumbprints
A fun and shockingly good twist on the traditional thumbprint cookie. Buttery cookies coated in sesame seeds and filled with Michigan-made tart cherry preserves make for an irresistible flavor combination. 
Whole Grain Cut-Out Cookies
Rolled sugar cookies made with freshly milled whole grains—both soft white wheat and rye!—and delightfully dressed up for the holidays. A flavorful upgrade on a classic that you'll find yourself returning to all year long.
Chocolate Orange Ginger Crinkles
A seasonal twist on chocolate crinkles, these soft, chocolatey cookies are warmed up with orange zest and a touch of ginger.
We're happy to once again be offering an optional kit for Fancy Schmancy Holiday Cookies for those who would like to make baking cookies at home as easy as possible. It includes (almost!) everything you need for this year's Fancy Schmancy Holiday Cookie lineup and ingredients will come already scaled for your baking pleasure.
Key info for Virtual Students –The student guide will be available in October for the virtual classes and Zoom links will come in your reminder email.
THIS SPECIAL CLASS HAS SOME SPECIAL RULES: 
If you cancel a Fancy Schmancy Holiday Cookie class with more than 7 days notice, you will receive a full refund or credit towards a future class. 
Class credits will expire if not used within 5 years from the date of cancellation. 
We're sorry, there will be no refunds or credits for Fancy Schmancy Holiday Cookie classes canceled with less than 7 days notice or for missed classes. You are welcome to send someone in your place.
NEED TO PICK-UP YOUR PRE-ORDERED
FSHC INGREDIENT KIT? 
Come to the Bakeshop anytime during regular business hours (7a-7p) and we'll get you taken care of!
Additional Products
Fancy Schmancy Holiday Cookies Cookbooklet
Cookie Bakers Rejoice! Fancy Schmancy Holiday Cookies, our third in a new series of cookbooklets we're developing here at the Bakehouse, features a collection of favorite holiday cookie recipes from our most popular BAKE! class ever! An annual tradition since 2009, the Fancy Schmancy Holiday Cookies class attracts hundreds of folks, each year, to bake cookies with us. The cookbooklet includes make-at-home recipes for 14 of our most beloved Fancy Schmancy Holiday cookies. (And of course, there's no need to limit these cookies to the holidays—they're just as sweet and delicious any time of year!) Shipping is included in the price of the cookbooklet.
| Dates for the Class | Class Format | Price | Class Status | Register |
| --- | --- | --- | --- | --- |