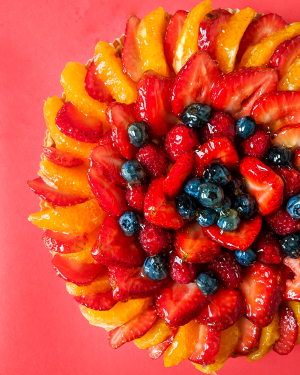 Fruit tarts are a favorite of food photographers because they look soooo sweet and fresh. When you see too many of them on the covers of glossy magazines, you start to get the idea that they're for experts only. Don't believe it.
In this hands-on class, we'll teach you how to make and blind bake a sweet and tender tart shell made from pâte sucrée (pronounced, pat-sue-cray), the sweet pastry dough traditionally used for tarts, and whip together a filling of rich vanilla bean pastry cream. Then we'll compose our tarts together, teaching you how to arrange the fresh fruit on top in an artful way.* Next time you see a succulent tart gracing the cover of Fine Cooking, you won't be fooled.
You'll leave the BAKE! class with our recipes, the knowledge to recreate them at home, the artful fresh fruit tart you made in class, and some great coupons. 
* In warmer months, we'll adorn our tarts with summer's bounty, from fresh berries to stone fruits. In cooler months we'll bring a taste of sunshine to our tarts with a selection of fresh citrus supremes.
What our guests have to say about this class:
Such a fun baking class. Instructors not only teach us, but give each one of us the time and attention to learn and practice. They all are very professional!!! —Jinny S.
Being able to practice new techniques in a class where I can get help & feedback gives me the confidence to try them at home. —Jane B.
Was so much fun! I have already told my mum we are coming back next year. —Bex S.
 
Additional Products
Basic Pastry Baking Kit
Our Basic Pastry Kit is ideal for newer pastry bakers, and includes tools we typically use for baked goods like scones, cookies, and brownies. It comes packed with the following equipment: a bowl scraper, a bench knife, an oven thermometer, ten sheets of parchment paper, a small pastry brush, a small offset spatula, 1 oz portion scoop, and a french rolling pin. The price includes ground shipping. For more in-depth equipment descriptions please go to our FAQ page or send us an email at [email protected].
| Dates for the Class | Class Format | Price | Class Status | Register |
| --- | --- | --- | --- | --- |
| Sunday, June 11, 2023 - 1:30pm - 5:30pm EDT | In-Person | $135.00 | Sold out | Add me to the waitlist |
| Saturday, July 8, 2023 - 1:00pm - 5:00pm EDT | Virtual | $85.00 | 17 spots left | |
| Sunday, July 16, 2023 - 1:30pm - 5:30pm EDT | In-Person | $135.00 | Sold out | Add me to the waitlist |
| Thursday, August 10, 2023 - 1:00pm - 5:00pm EDT | Virtual | $85.00 | 20 spots left | |
| Sunday, August 13, 2023 - 8:00am - 12:00pm EDT | In-Person | $135.00 | 11 spots left | |