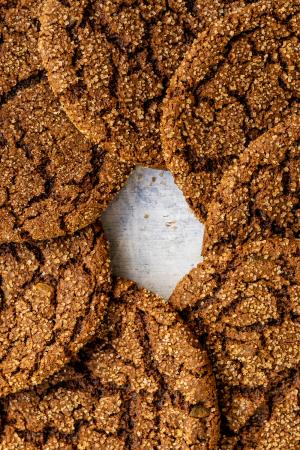 All about ginger! Are you a ginger lover or got a ginger lover in your community of family and friends? If yes, then this class is for you. We'll be making three Bakehouse favorites featuring ginger: our ever popular Ginger Jump-Up Cookies and Ginger Scones, and the pièce de résistance, our super flavorful Gingerbread Coffee Cake! These are approachable recipes, easy to recreate at home, that include some fundamental baking techniques worth knowing. Join us for some creaming, mixing, and scooping fun.
You'll leave the BAKE! class with our recipes, the knowledge to recreate them at home, and all the tasty ginger treats we made in class.
In-Person: We'll end class with a tasting of all that we made and you'll go home with some great coupons.
| Dates for the Class | Class Format | Price | Class Status | Register |
| --- | --- | --- | --- | --- |
| Thursday, October 5, 2023 - 5:30pm - 9:30pm EDT | In-Person | $135.00 | 3 spots left | |
| Sunday, October 15, 2023 - 1:00pm - 5:00pm EDT | Virtual | $85.00 | 13 spots left | |
| Sunday, November 5, 2023 - 8:00am - 12:00pm EST | In-Person | $135.00 | Sold out | Add me to the waitlist |
| Thursday, January 11, 2024 - 5:30pm - 9:30pm EST | In-Person | $135.00 | 12 spots left | |
| Sunday, January 14, 2024 - 1:30pm - 5:30pm EST | Virtual | $85.00 | 13 spots left | |