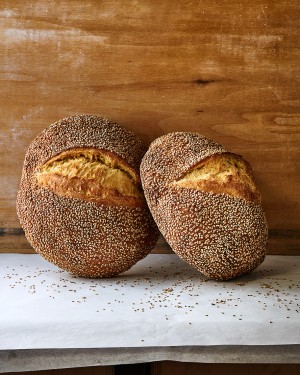 This class is being offered virtually. 
Join us for this mini version of our popular hands-on baking class, "Mambo Italiano: Italian Breads." We'll take you on a brief bread-making journey through part of Italy, as we teach you how to make fresh-baked Italian bread from scratch the Zingerman's Bakehouse way. 
Let's meet the Bakehouse Italian breads you'll be making:
Focaccia—A tender flatbread topped with Parmigiano-Reggiano® cheese. It's a great bread to enjoy as an appetizer, to serve with spreads, or to make a sandwich with. Wait until you experience focaccia warm and fresh from your own oven. You might want to double the recipe at home to account for the imminent snack attack that's coming to a kitchen near you.

Sicilian Sesame Semolina—Our homage to Sicilily and a Bakehouse favorite since we opened, this bread is made from nearly 100% durum wheat (the same used to make pasta) in its two different forms—both the coarser ground semolina and the more finely ground durum. The entire loaf is then rolled in unhulled sesame seeds before baking. The natural oil in all those seeds that cover the dough gets slowly roasted in the oven, contributing an intense flavor and aroma, not to mention a lovely little crunch. And that's just the crust! Inside there's a firm, rich, and almost cake-like crumb with a golden yellow hue. This bread is fantastic toasted or grilled and pairs beautifully with garlic butter, pesto, olive tapenade, or a sprinkle of good parmesan. For more on why we're so taken with this exceptional Italian bread, head to our blog and read: "Sara's Sweet on Sicilian Sesame Semolina."
In this two-day class*, we'll walk you through the Bakehouse's recipes for Focaccia and Sicilian Sesame Semolina, covering all the essential techniques. On Day One, we'll meet briefly to discuss what in the world a poolish is and why you need it to make these Italian breads, before we mix it up and let it ferment overnight. On Day Two, we'll make our bread dough, and go over the techniques of handling yeasted doughs, proper kneading, shaping and proofing your loaves, and finding out when your loaves are ready to bake, and more. You'll get plenty of hands-on practice, leaving you with the skills to bake these Italian breads at home anytime you want.

You'll leave the BAKE! class with our recipes, the knowledge to recreate them at home, and the Focaccia and Sicillian Sesame Semolina you made in class. 
* Please note, this virtual class takes place over two consecutive days. On Day One, we'll meet briefly to mix our poolish and answer any questions you might have. On Day Two, we will be mixing, shaping, proofing, and baking our two Italian breads.
What our guests have to say about this class:
I was looking for bread baking tips and ended up learning tons. I've always been a big fan of baking and this class has inspired me to try baking different types of bread. —Zixuan W.
Fantastic class with just the right mix of art and science. —Bridget W.
Additional Products
Semolina and Durum Flour Kit
We would love to send you the flour you 'knead' for Mini Mambo success. This kit includes 2# of our semolina flour and 2# of our Durum Flour, more than enough to make the Sicilian Sesame Semolina bread in our Mini Mambo Italiano class. The price includes ground shipping. 
Basic Bread Baking Kit
Our Basic Bread Baking Kit is great for bakers who are just starting to experiment with bread baking. It comes with 5 tools that will help you get started on your bread baking adventure: a bowl scraper, a bench knife, a lame with three razor blades (for scoring bread), an oven thermometer, and a digital thermometer. The price includes ground shipping. For more in-depth equipment descriptions please go to our FAQ page or send an email to [email protected]. 
Everything Bread Baking Kit
Our Everything Bread Baking Kit is great for more experienced bread bakers, or those looking to expand their world of breads. It contains all of the equipment from the Basic Bread Baking Kit (bowl scraper, bench knife, lame with three razor blades, oven thermometer, and digital thermometer), plus a willow proofing basket, a linen couche for making baguettes, cheesecloth, and ten sheets of parchment paper. The price includes ground shipping. For more in-depth equipment descriptions please go to our FAQ page or send us an email at [email protected].
My Weigh Kitchen Scale
A scale is the perfect way to take the guesswork out of your measuring, but not all scales are created equal. The My Weigh KD-8000 is one of our favorites, and it's the same version of the scale our instructors use during BAKE! Classes. We like it because it weighs accurately down to 1 gram/0.05 oz, which means even small measurements will be precise. It also has a Baker's Math function that lets you calculate percentages of other ingredients in a recipe based on the total weight of your flour—a great way to figure out your dough's hydration, or to scale a recipe up or down!
The scale is battery-powered (but comes with an AC adapter if you'd rather have it plugged in) and has a weight capacity of up to 8000 grams/17.62 lb. It features a backlit LCD readout with a protective cover, and a removable platform for easy cleaning. The price includes ground shipping.
| Dates for the Class | Class Format | Price | Class Status | Register |
| --- | --- | --- | --- | --- |