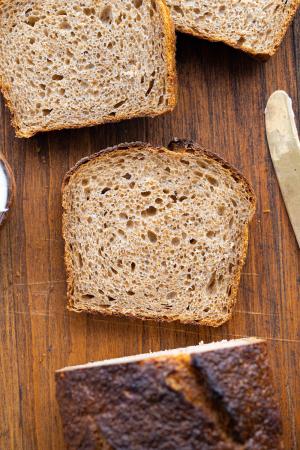 Have you always wondered how to make naturally leavened bread at home? What is a sourdough starter anyway? In this class, we will demystify naturally leavened bread for you, teach you how to make and maintain 2 different types of sourdough starter (one being the starter we use here at the Bakehouse and one 100% whole grain starter), mix and treat the dough, and make flavorful bread at home.
You will make our classic Farm bread as well as 100% Whole Grain loaves.
Your class includes a great Zingerman's Bakehouse lunch, too. This is a day-long, advanced class for the dedicated baker. It's an action-packed class with a deep dive discussion into the science of naturally leavened breads.

You'll leave BAKE! with Zingerman's naturally leavened bread and sourdough starter recipes, the knowledge to recreate them at home, 4 loaves of bread, 2 sourdough starters to make more bread at home, and great coupons. Not to mention a full tummy from lunch and bread snacking in class.
 
What our guests have to say about this class:
I'm hoping to move to exclusively naturally leavened breads. Will totally try my best to recreate these recipes at home. Excited for some cranberry pecan for Thanksgiving leftovers. —Jessie S.
Gives me the help I need to up my baking game. —Mike C.
Good place to start your sourdough journey. —Cynthia D.
| Dates for the Class | Class Format | Price | Class Status | Register |
| --- | --- | --- | --- | --- |
| Saturday, March 16, 2024 - 8:00am - 5:00pm EDT | In-Person | $275.00 | 6 spots left | |
| Saturday, June 1, 2024 - 8:00am - 5:00pm EDT | In-Person | $275.00 | 10 spots left | |