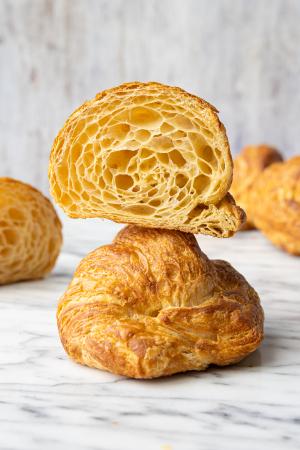 Join us for one of our most popular baking classes! In this hands-on class, we'll teach you how to make traditional French croissants the Zingerman's Bakehouse way. There are very few places in the world outside of France where you can get a truly great, flaky, buttery croissant—Zingerman's Bakehouse is certainly one of those places. We pride ourselves on their rich flavor, tender honeycombed interior, and crispy exterior that shatters a little when you bite into it. It's mostly about taking the time to do it right and not using fake ingredients or pre-made frozen doughs. And we think it's well worth the time and effort to do so. Like we say, you really can taste the difference. 
This class is a great choice for any beginning or advanced baker looking to build up their baking skills and recipe box. We'll teach you the key techniques for working with a yeasted dough, creating a butter-laminated dough (layering the dough with butter and folding it over), filling the croissants, proofing them properly to achieve the right texture inside, and finally, baking them to a rich golden brown. When you smell the sweet aroma and taste the buttery flavor of your croissants fresh from the oven, you'll be so happy that you made the investment in making them from scratch.
We'll make our butter croissant recipe from start to finish, giving you the option, as well, to fill your croissants with both our rich almond frangipane spread (we'll give you the recipe for that, too) and Nicaraguan bean-to-bar dark chocolate from French Broad Chocolate in Asheville, NC, before baking them all to perfection. There are few more sublime things in our book than enjoying a freshly-baked croissant that is still a little warm. We can't wait for you to try it. It's going to be life-changing. And we know where you can get a good cup of coffee to go with it, for the full effect.
For some storied history of the French croissant, head to our blog and read, "From Kipferl to Croissant: A Brief History." 
You'll leave the BAKE! class with our recipes, the knowledge to recreate them at home, and the croissants you made in class.
In-Person: We'll end class with a tasting of warm croissants and you'll go home with croissant dough to bake later, as well as some great coupons. You may want to bring a cooler and ice pack to class with you for storing your bake-at-home croissant dough on the ride home if you are traveling more than an hour to attend.
Virtual (2-day): On Day 1 we will make our yeasted, butter-laminated croissant dough, before refrigerating it overnight; and go over filling options, including how to make our almond frangipane. On Day 2 we will roll, fill, and shape our croissants, followed by some downtime for proofing; and then bake them.
WHAT OUR GUESTS HAVE TO SAY ABOUT THE CLASS:
It's always good to learn as much as possible about what we eat, and homemade will taste better than store-bought. This is a great skill set to add. —Keith P.
The taste of homemade croissants in class emphasized the value of making them myself. —Amy A.
It was a lot of fun and very easy to follow for a beginner with zero baking experience. —Bob P.
Additional Products
Breezy Breakfasts Cookbooklet
What's for breakfast? Breezy Breakfasts, the second in our series of cookbooklets, celebrates classic baked breakfast fare we've been rustling up for nearly all of our history. The cookbooklet includes make-at-home recipes for 11 of our most favorite easy, breezy, quick-baked breakfast treats--muffins, scones, and porridges--plus 20 bread and garnish combinations to elevate your approach to toast. Shipping is included in the price of the cookbooklet.
Basic Pastry Baking Kit
Our Basic Pastry Kit is ideal for newer pastry bakers, and includes tools we typically use for baked goods like scones, cookies, and brownies. It comes packed with the following equipment: a bowl scraper, a bench knife, an oven thermometer, ten sheets of parchment paper, a small pastry brush, a small offset spatula, 1 oz portion scoop, and a french rolling pin. The price includes ground shipping. For more in-depth equipment descriptions please go to our FAQ page or send us an email at [email protected].
Dates for the Class
Class Format
Price
Class Status
Register

Saturday, January 13, 2024 - 8:00am - 12:00pm EST



In-Person

$135.00

Sold out

Add me to the waitlist

Saturday, February 10, 2024 - 8:00am - 12:00pm EST



In-Person

$135.00

Sold out

Add me to the waitlist

Thursday, February 15, 2024 - 1:00pm - 4:00pm EST




Friday, February 16, 2024 - 1:00pm - 4:00pm EST



Virtual

$85.00

15 spots left

Sunday, March 17, 2024 - 8:00am - 12:00pm EDT



In-Person

$135.00

3 spots left

Saturday, March 30, 2024 - 8:00am - 12:00pm EDT



In-Person

$135.00

7 spots left

Saturday, April 6, 2024 - 8:00am - 12:00pm EDT



In-Person

$135.00

9 spots left

Saturday, April 20, 2024 - 8:00am - 12:00pm EDT



In-Person

$110.00

8 spots left

Saturday, May 18, 2024 - 8:00am - 12:00pm EDT



In-Person

$135.00

12 spots left