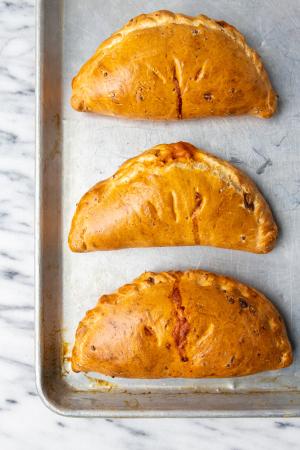 We know our students can't seem to get enough pizza. And why not? It's fun to make and fun to eat. This collection of recipes will elevate your pizza making to a new level. Together, we'll construct a double crust pizza crostata filled with homemade meatballs, sausage, and roasted tomatoes and peppers; cheesy calzones with tomato sauce, and stromboli with savory Italian meats and cheese. We'll teach you how to make the pizza dough from scratch for each recipe, go over the basics of dough fermentation and shaping, and how to bake your crusts. Make your next family pizza night primo!
You'll leave the BAKE! class with our recipes, the knowledge to recreate them at home, and everything you made in class: a pizza crostata, two calzones, and a stromboli.
In-Person: We'll end class with a tasting of what we made and you'll go home with some great coupons.
Additional Products
Basic Pastry Baking Kit
Our Basic Pastry Kit is ideal for newer pastry bakers, and includes tools we typically use for baked goods like scones, cookies, and brownies. It comes packed with the following equipment: a bowl scraper, a bench knife, an oven thermometer, ten sheets of parchment paper, a small pastry brush, a small offset spatula, 1 oz portion scoop, and a french rolling pin. The price includes ground shipping. For more in-depth equipment descriptions please go to our FAQ page or send us an email at [email protected].
| Dates for the Class | Class Format | Price | Class Status | Register |
| --- | --- | --- | --- | --- |
| Saturday, November 12, 2022 - 1:30pm - 5:30pm EST | Virtual | $85.00 | 19 spots left | |