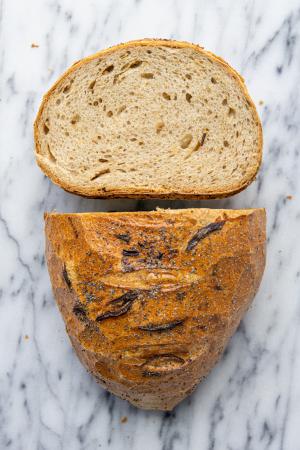 It's no secret we love rye around here! In this hands-on class, we'll teach you to make three varieties of rye bread that Zingerman's Bakehouse is famous for: our Onion Rye and Pumpernickel, as well as Vorterkaker, a Norwegian 100% rye. Each bread has its own unique personality that you're sure to love. Our Onion Rye is brimming with flavor thanks to fresh, caramelized onions and lots of poppy seeds baked inside and on top. Our old-world-style Pumpernickel bread is dark, moist, and also full of flavor. Both these ryes are made with the same detailed process and organic rye sour as its cousin, our famous Jewish Rye bread. And Vorterkaker? You've never baked a bread like this before. It's a traditional rye baked into a flat disc and flavored with fennel and anise seeds.
All of the rockin' rye varieties we'll make in class are moist and full of flavor, thanks in no small part to our organic rye sour starter. We also use what we call "old" in our recipe. It's simply rye bread from a previous day mixed with water to make a mush. It adds to the texture of the bread and spiritually connects today to yesterday, recognizing the circularity of our lives. We use more rye flour and less yeast than other bakeries, bake our loaves on a stone hearth, and mist the crust with water right out of the oven. That quick steam makes the thin crust shiny and crispy. 
No matter which rye bread you like best, your sandwiches will be sending you thank-you notes!
You'll leave the BAKE! class with our recipes, the knowledge to recreate them at home, and all the rye breads you made in class.
In-Person: We'll end class with a rye bread tasting and you'll also go home with some great coupons.
Virtual (2-day): On Day 1, we'll meet for an hour to mix our rye sour, before fermenting it overnight, and answer any questions you may have. On Day 2 we'll mix our doughs and then shape, proof, and bake all 3 rye breads.
Additional Products
My Weigh Kitchen Scale
A scale is the perfect way to take the guesswork out of your measuring, but not all scales are created equal. The My Weigh KD-8000 is one of our favorites, and it's the same version of the scale our instructors use during BAKE! Classes. We like it because it weighs accurately down to 1 gram/0.05 oz, which means even small measurements will be precise. It also has a Baker's Math function that lets you calculate percentages of other ingredients in a recipe based on the total weight of your flour—a great way to figure out your dough's hydration, or to scale a recipe up or down!
The scale is battery-powered (but comes with an AC adapter if you'd rather have it plugged in) and has a weight capacity of up to 8000 grams/17.62 lb. It features a backlit LCD readout with a protective cover, and a removable platform for easy cleaning. The price includes ground shipping.
| Dates for the Class | Class Format | Price | Class Status | Register |
| --- | --- | --- | --- | --- |
| Friday, February 24, 2023 - 1:00pm - 5:00pm EST | In-Person | $135.00 | Sold out | Add me to the waitlist |
| Sunday, March 5, 2023 - 1:30pm - 5:30pm EST | In-Person | $135.00 | Sold out | Add me to the waitlist |
| Thursday, March 30, 2023 - 1:00pm - 5:00pm EDT | In-Person | $135.00 | 8 spots left | |