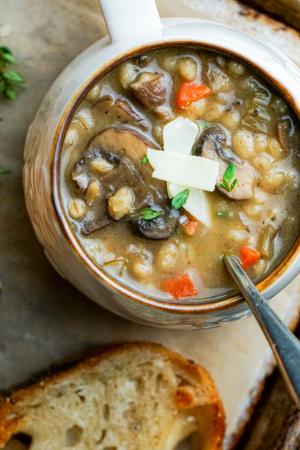 In this hands-on class, we'll make two of our best-selling Zingerman's Bakehouse soups! 
Molinaro's Mushroom Barley
The dried porcinis, three different fresh mushrooms, and two broths (vegetable and parmesan mushroom) make for a richly flavored and supremely nourishing soup. Something about this dish says soft, cozy, and relaxing, like a Sunday evening spent inside on a cold winter night. It's named after Sara Molinaro, our former BAKE! principal and we wanted to honor her contributions to our work by naming something we make after her. Alliteration and Sara's Italian heritage made this soup a perfect choice.
5 O'Clock Cheddar Ale
This soup has been a Thursday standard in our Bakeshop for at least a decade. It's been so long that none of us can remember exactly when we started to make it! Summer or winter, it seems to satisfy.
You'll leave the BAKE! class with our recipes, the knowledge to create them at home, and the two soups you made in class.
In-Person: We'll end class with a tasting of what we made and you'll go home with some great coupons.
Additional Products
Cup or Bowl? Cookbooklet
Cup or Bowl?, the first in our series of cookbooklets, features a collection of favorite soups and bread pairings that have graced our Bakeshop lunch menu for nearly 20 years. The cookbooklet includes 15 soup recipes you can make at home, ranging from cold summer classics like heirloom gazpacho to American standards like creamy Tomato De-Vine. Shipping is included in the price of the cookbooklet.
| Dates for the Class | Class Format | Price | Class Status | Register |
| --- | --- | --- | --- | --- |
| Sunday, January 14, 2024 - 8:00am - 12:00pm EST | In-Person | $135.00 | 8 spots left | |