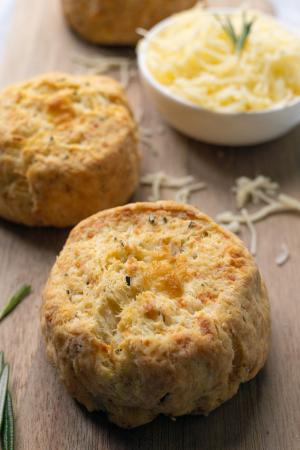 A great class for beginning bakers. Learn the keys to flaky and tender scones, such as how to properly cut the butter into the flour. You'll make 3 varieties of Bakehouse Buttery Scones—sweet crystallized Ginger, savory Cheddar Herb, and flavorful Orange and Date scones, which are made with freshly milled hard red spring and soft white whole wheat.  Scones are simple to make and really delicious fresh out of your oven at home, so these recipes will surely become some of your favorites to reach for!

You'll leave BAKE! with our recipes, the knowledge to recreate them at home, three dozen scones you made in class, and great coupons.
What our guests have to say about this class:
I will be making scones in my home baking, I didn't realize that they could taste so GOOD! Thank you! —Kristen S.
The amount of scientific knowledge about baking was fascinating. —Joshua A.
I actually thought it was going to be more difficult, but I had no problem following along. And the scones are delicious! Taking this class made me feel much more confident to be able to make these at home and I am a very amateur baker. —Sarah B.
| Dates for the Class | Class Format | Price | Class Status | Register |
| --- | --- | --- | --- | --- |
| Wednesday, January 3, 2024 - 6:00pm - 9:00pm EST | In-Person | $110.00 | 10 spots left | |
| Sunday, February 18, 2024 - 1:30pm - 4:30pm EST | In-Person | $110.00 | Sold out | Add me to the waitlist |
| Thursday, May 9, 2024 - 1:00pm - 4:00pm EDT | In-Person | $110.00 | 12 spots left | |