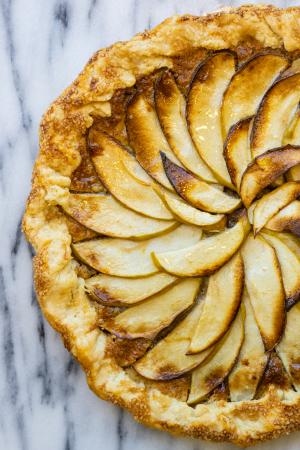 A galette is a fancy French word for a free-form pie. It sounds and looks impressive, but in this hands-on class, we'll teach you to master this rustic but elegant pastry. First, we'll start with an important building block: mixing, rolling, and shaping a basic all-butter pie dough. Then we'll use that dough to create small, individual savory galettes filled with herbed goat cheese (from Zingerman's Creamery) and sliced tomatoes. Then we'll make a gorgeous, large, sweet galette —with almond frangipane and seasonal fruit. These are the recipes to roll out at your next dinner party.
You'll leave the BAKE! class with our recipes, the knowledge to recreate them at home, and the small savory galettes and large sweet galette you made in class.
In-Person: We'll end the class with a tasting and you'll also go home with some great coupons.
What our guests have to say about this class:
One of the best parts about this class is that we made an easy, useful pie dough—something that I'd readily try on a moment's notice. It's nice not to be afraid of pie dough anymore. —Kathleen C.
This was one of the most fun things I've ever done. I thoroughly enjoyed every moment of learning in a relaxed and comfortable environment. I'm going to be making galettes for everything now. —Bolanle A.
I think I'll be making savory galettes for dinner every other week now. —Emily P.
Additional Products
Basic Pastry Baking Kit
Our Basic Pastry Kit is ideal for newer pastry bakers, and includes tools we typically use for baked goods like scones, cookies, and brownies. It comes packed with the following equipment: a bowl scraper, a bench knife, an oven thermometer, ten sheets of parchment paper, a small pastry brush, a small offset spatula, 1 oz portion scoop, and a french rolling pin. The price includes ground shipping. For more in-depth equipment descriptions please go to our FAQ page or send us an email at [email protected].
| Dates for the Class | Class Format | Price | Class Status | Register |
| --- | --- | --- | --- | --- |
| Sunday, October 15, 2023 - 1:30pm - 5:30pm EDT | In-Person | $135.00 | 8 spots left | |