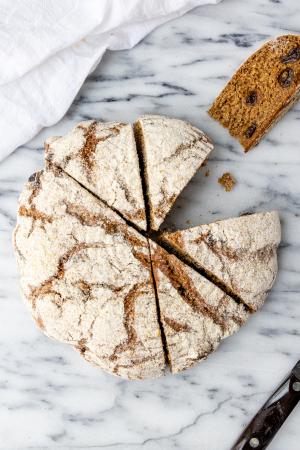 We all know that whole grains can be good for us, but that's not the only reason to eat them. With the right recipes and techniques, they can taste great, too. In this hands-on class we'll teach you to make Bakehouse Country Wheat bread, a whole-grain raisin bread, and a masterful Multi-Grain bread. This class will change how you think of whole-grain bread. 
You'll leave the BAKE! class with our recipes, the knowledge to recreate them at home, the loaves of bread you made in class, and some great coupons.
In-Person: We'll end the class with a bread tasting and you'll also go home with some great coupons.
For some background on the Bakehouse's journey into freshly milled whole grain flours, head to our blog and read: "Whole Grains and Hope" and "7 Reasons to Fall for Freshly Milled Flour"
What our guests have to say about this class:
Such a fun and pressure-free environment to learn how to make some complicated recipes. This class demystified bread and made it more approachable for at-home baking. —Ally Y.
I want to turn this into my hobby. I found it very relaxing and there is bread at the end of it all! —Panduranga R.
These were slightly complicated breads and all directions and demonstrations were exceptionally clear. —Anon
Additional Products
My Weigh Kitchen Scale
A scale is the perfect way to take the guesswork out of your measuring, but not all scales are created equal. The My Weigh KD-8000 is one of our favorites, and it's the same version of the scale our instructors use during BAKE! Classes. We like it because it weighs accurately down to 1 gram/0.05 oz, which means even small measurements will be precise. It also has a Baker's Math function that lets you calculate percentages of other ingredients in a recipe based on the total weight of your flour—a great way to figure out your dough's hydration, or to scale a recipe up or down!
The scale is battery-powered (but comes with an AC adapter if you'd rather have it plugged in) and has a weight capacity of up to 8000 grams/17.62 lb. It features a backlit LCD readout with a protective cover, and a removable platform for easy cleaning. The price includes ground shipping.
| Dates for the Class | Class Format | Price | Class Status | Register |
| --- | --- | --- | --- | --- |
| Friday, February 3, 2023 - 1:00pm - 5:00pm EST | In-Person | $135.00 | 1 spot left | |
| Saturday, February 18, 2023 - 1:30pm - 5:30pm EST | In-Person | $135.00 | Sold out | Add me to the waitlist |
| Sunday, March 12, 2023 - 8:00am - 12:00pm EDT | In-Person | $135.00 | Sold out | Add me to the waitlist |