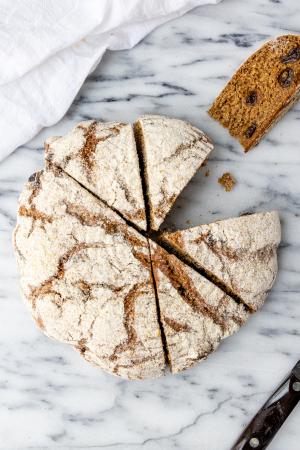 We all know that whole grains can be good for us, but that's not the only reason to eat them. With the right recipes and techniques, they can taste great, too. In this hands-on class we'll teach you to make Bakehouse Country Wheat bread, a Whole-Grain Raisin Bread, and a masterful Multi-Grain bread. This class will change how you think of whole-grain bread. 
You'll leave the BAKE! class with our recipes, the knowledge to recreate them at home, the loaves of bread you made in class, and some great coupons.
In-Person: We'll end the class with a bread tasting and you'll also go home with some great coupons.
For some background on the Bakehouse's journey into freshly milled whole grain flours, head to our blog and read: "Whole Grains and Hope" and "7 Reasons to Fall for Freshly Milled Flour"
What our guests have to say about this class:
Such a fun and pressure-free environment to learn how to make some complicated recipes. This class demystified bread and made it more approachable for at-home baking. —Ally Y.
I want to turn this into my hobby. I found it very relaxing and there is bread at the end of it all! —Panduranga R.
These were slightly complicated breads and all directions and demonstrations were exceptionally clear. —Anon
| Dates for the Class | Class Format | Price | Class Status | Register |
| --- | --- | --- | --- | --- |
| Friday, January 19, 2024 - 1:00pm - 5:00pm EST | In-Person | $135.00 | 10 spots left | |
| Sunday, January 28, 2024 - 8:00am - 12:00pm EST | In-Person | $135.00 | 4 spots left | |
| Friday, February 2, 2024 - 1:00pm - 5:00pm EST | In-Person | $135.00 | 12 spots left | |
| Saturday, February 17, 2024 - 1:30pm - 5:30pm EST | In-Person | $135.00 | 10 spots left | |
| Sunday, March 10, 2024 - 8:00am - 12:00pm EDT | In-Person | $135.00 | 12 spots left | |
| Saturday, April 27, 2024 - 8:00am - 12:00pm EDT | In-Person | $135.00 | 11 spots left | |