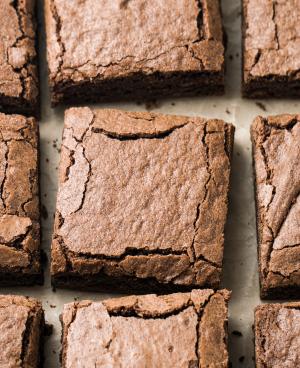 We created this class years ago to celebrate the anniversary of Zingerman's Delicatessen (they opened way back in 1982!). In this hands-on class, we'll teach you how to make our Jewish Rye Bread and Black Magic Brownies, old-time favorites; and our Hummingbird Cake, a more recent favorite, with pineapple, pecans, coconut, bananas, and cream cheese frosting. You'll also find out what a rye sour starter is and the secrets behind our rye bread's amazing flavor. 
You'll leave the BAKE! class with our recipes, the knowledge to recreate them at home, and everything you made in class, including a rye sour starter, a loaf of Jewish Rye bread, Hummingbird cake, and Black Magic brownies.
In-Person: We'll end class with a tasting and you'll also go home with some great coupons.
Virtual (2-day): On Day 1, we'll meet to mix together our rye sour starter for the Jewish Rye bread, before letting it ferment overnight; and on Day 2 we'll mix, shape, proof and bake our Jewish Rye bread and also make the brownies and cake from start to finish.
What our guests have to say about this class:
I have better sweet treats in my repertoire now. —Alia A.
I will for sure move from Betty Crocker to real brownies. —Alison H.
Fun, informative, educational, and I learned new and improved methods. —Joe S.
Additional Products
My Weigh Kitchen Scale
A scale is the perfect way to take the guesswork out of your measuring, but not all scales are created equal. The My Weigh KD-8000 is one of our favorites, and it's the same version of the scale our instructors use during BAKE! Classes. We like it because it weighs accurately down to 1 gram/0.05 oz, which means even small measurements will be precise. It also has a Baker's Math function that lets you calculate percentages of other ingredients in a recipe based on the total weight of your flour—a great way to figure out your dough's hydration, or to scale a recipe up or down!
The scale is battery-powered (but comes with an AC adapter if you'd rather have it plugged in) and has a weight capacity of up to 8000 grams/17.62 lb. It features a backlit LCD readout with a protective cover, and a removable platform for easy cleaning. The price includes ground shipping.
Basic Pastry Baking Kit
Our Basic Pastry Kit is ideal for newer pastry bakers, and includes tools we typically use for baked goods like scones, cookies, and brownies. It comes packed with the following equipment: a bowl scraper, a bench knife, an oven thermometer, ten sheets of parchment paper, a small pastry brush, a small offset spatula, 1 oz portion scoop, and a french rolling pin. The price includes ground shipping. For more in-depth equipment descriptions please go to our FAQ page or send us an email at [email protected].
Everything Pastry Baking Kit
Want to elevate your baked goods to baked greats? Our Everything Pastry Kit adds more handy tools we like to use for baking, decorating, and displaying your delicious works of art. In addition to everything from the Basic Pastry Kit (bowl scraper, bench knife, oven thermometer, parchment paper, pastry brush, small offset spatula, 1 oz scoop, rolling pin), it comes packed with the following equipment: a pastry blender, 1/3 oz portion scoop, a whisk, large and small piping bags, a large star and a large round decorating tips, and 3 cake boards—10x14-inch rectangle, 9-inch round, and a 12-inch round. The price includes ground shipping. For more in-depth equipment descriptions please go to our FAQ page or send us an email at [email protected].
| Dates for the Class | Class Format | Price | Class Status | Register |
| --- | --- | --- | --- | --- |
| Saturday, January 7, 2023 - 1:30pm - 5:30pm EST | In-Person | $135.00 | Sold out | Add me to the waitlist |
| Saturday, February 18, 2023 - 8:00am - 12:00pm EST | In-Person | $135.00 | 1 spot left | |
| Wednesday, February 22, 2023 - 5:30pm - 9:30pm EST | In-Person | $135.00 | Sold out | Add me to the waitlist |
| Sunday, March 5, 2023 - 8:00am - 12:00pm EST | In-Person | $135.00 | 8 spots left | |
| Friday, March 24, 2023 - 1:00pm - 5:00pm EDT | In-Person | $135.00 | 8 spots left | |